3M Micropore Surgical Tape 2.5cm X 9.1m, Guaranteed Cheapest on eBay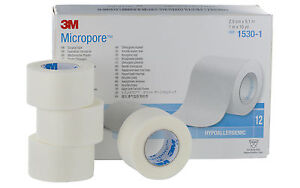 ---
Multi-listing: Choose between 1 roll, 2 rolls, 6 rolls, 12 rolls (with retail box) or a 30cm SAMPLE.

3M Micropore™ Hypoallergenic Surgical Tape.  Length: 2.5cm (1"), length 9.1m (10yd) unless you order a 30cm sample.

From the manufacturer:

"Description

A latex-free, hypoallergenic paper tape that is gentle to the skin yet adheres well and leaves minimal adhesive residue upon removal. An economical, general purpose, breathable surgical tape.

Benefits 

Gentle to the skin Latex-free and hypoallergenic for sensitive patients Highly breathable to maintain skin integrity Holds well on damp skin for secure placement"

Please search our Shop for other sizes, types and brands of medical adhesive tape. Complete range of Nitrile, Latex and Vinyl gloves also available.