Diabetic Medical Arch Support Extra Thick Insoles Running Working Boots Shoes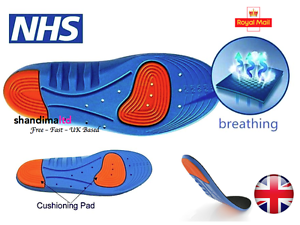 ---
  Contact: via messages Please contact us via messages Looking for Highest Quality Diabetic Medical Arch Support Extra Thick Insoles? Then Look No Further!Shipped From UK!
DESCRIPTION
Easy cut to size. Make sure to place your old insole together and cut around it for perfect fit. Do not cut by size as it could vary. 

Thick Bottom Part of Insole Helps absorb shock with each step you take and provides your foot with structural integrity

Soft Top Layer provides comfort and an additional layer of protection for your foot

Thick heel Section to protect your foot from Runner's Heel and Heel Spurs

Helps prevent Plantar Fascitiis, Metatarsal pain, flat feet, and over pronation

Soft Top Cloth layer helps absorb excess moisture and is made with anti-bacterial Material.

These are a very comfortable insoles that helps promote good foot health. It is uniquely designed for patients with diabetes as it distributes foot pressure more evenly, relieves high pressure points in heel and ball-of-foot and provides all-day comfort. The memory foam moulds to the foot and there is dual-layer foam that absorbs shock.

Once again thanks for shopping with us and we promise you won't be disappointed.
WHY BUY FROM US?
Thousands Happy Customers! Based in UK! Easy 30 days Returns! Free and Fast Same Day Shipping! Excellent UK Customer Service!