Duracell Activair Mercury Free Hearing Aid Batteries Size 13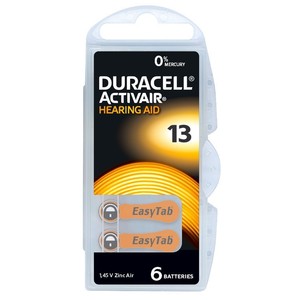 ---
Duracell Activair mercury free size 13 hearing aid batteries
Suitable mainly for behind the ear (BTE) and full shell in the ear (ITE) hearing aids - 1.45 volts Zinc-Air - orange tab.
These batteries have near to 4 years of shelf date on them.
Duracell Activair hearing aid batteries have a long easy tab applicator especially helpful for those with dexterity problems.