Proworks Plantar Fasciitis Compression Socks Heel Foot Arch Pain Relief Support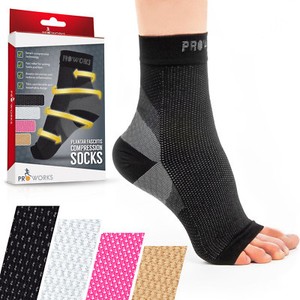 ---
Yousave UK TemplateShow MenuProductAboutPostageReturns Product Specifications

Colours: Black, White, Pink, Beige

Material: 86% Nylon and 14% Spandex

Design: Open Toe

Compression Points: 7

Small Size: 3 to 6 (UK)

Large Size: 7 to 11 (UK)

Ask a QuestionAdd to Favourites Proworks Plantar Fasciitis Compression Socks (Pair)
Key Product Features
Targeted relief compression stockings to reduce and help prevent plantar fasciitis symptoms. Arch compression & under-foot cushioning delivers pain-relieving support for the plantar fascia tendon. Relief from pain & swelling, arthritis, DVT and varicose veins. Targets 7 foot structure points with graduated levels of compression to help with a range of foot complaints and conditions. Elasticated ankle support socks made from 86% nylon and 14% spandex fibre. Latex-free and machine washable. Flexible, lightweight and heard-wearing. Fits snugly to the contours of your foot. Low-profile, open-toe design. Provides foot support without bulky fastenings. Wear on its own or under regular socks. Proworks sizing advice. Small men and women's unisex compression sleeve - foot size 3 to 6 (UK). Two socks included in package. For a larger size, opt for Proworks Compression Socks, Large - 7 to 11 (UK).
Targeted Relief from Plantar Fasciitis Symptoms
Buy Proworks compression socks to help tackle plantar fasciitis, a common cause of heel and foot pain. With this plantar fasciitis support, a combination of cushioning & compression cradles, shields and lifts the thick band of tissue across the bottom of the foot (plantar fascia). It encourages blood flow and reduces aches, pain & tension for easier mobility.
Support for a Wide Range of Foot and Ankle Conditions
With the Proworks support stocking, varying grades of compression target different areas of the foot - dorsal & ventral - (see the image to the left). It makes this foot support aid great for boosting blood flow, reducing pain, increasing stamina and protecting the foot and lower leg from spraining injuries.
hese support socks can help with poor circulation, DVT, arthritis & arthritic-like conditions, Achilles tendonitis, edema, varicose veins, back heel spurs, ligament damage, morning & night cramps, recovery from surgery, sports injuries & exercise.
These compression socks can be used on their own or with other orthotic bandages, relievers, cures, gels & thermal wraps, in accordance with nursing and physio therapy requirements and medical advice.
Ideal for Work, Sport, Travel, and Training
Reaching the shin with an open-toe design, these adjustable, latex-free, anti-allergy therapy socks are a practical alternative to bulkier stabilizers, splints and calves braces.

For long-haul flights, the gym, football, hiking, golf, tennis, athletics, and other sports, Proworks support socks are a natural fit! Thin enough to be worn with socks, trainers, shoes, work boots (even ladies stilettos) these products help you get on with life, free from walking pain and activity-triggered cramps. Teachers, nurses, factory workers - anyone on their feet all day: Proworks compression socks can deliver the 24/7 relief you need.

About Us

Welcome to Yousave; your first choice for quality mobile phone and electronic accessories. We are trusted UK providers of top of the range phone and gadget cases and accessories! With free delivery anywhere in the UK and cheap international shipping why not shop with us online today!
Phone Cases, Screen Protectors & Accessories
Here at Yousave Accessories we offer a fantastic choice of mobile phone cases, screen protectors, and other accessories. Our long-established supply network ensures we always have an unbeatable range of premium quality cases for all the latest phones in stock at our UK warehouse.
A Wide Range of Gadgets
Not only do we sell phone cases and accessories, we also stock a wide range of hi-tech gadgets and useful accessories such as wireless keyboards and mice, Bluetooth speakers, laptop cases and bags, HDMI cables, TV brackets, and more. Whatever you need, you can be sure Yousave Accessories has you covered!

Postage

Products are dispatched Monday to Friday. If your order has been placed and payment received before 2pm, we aim to dispatch it the same day. With our free standard delivery service, orders should arrive within 1-5 days. A guaranteed signed-for next day delivery service is also available for an extra charge. Items to Europe and the rest of the world will take longer.

Returns

All returns must be posted to this address: 1 Sadler Foster Way, Teesside Industrial Estate, Thornaby, Stockton-on-Tees, TS17 9JY.
30-day Returns Policy
All unwanted items can be returned to us, in which case we will refund your purchase providing:
• It is returned to us within 30 days of you receiving your order.
• It is in the same condition as you received it.
• It is returned in its original undamaged packaging.
Faulty/Damaged Goods
Claims for refunds, replacements or repairs will be dealt with if applicable if goods are found to:
• Not be of satisfactory quality.
• Not be fit for the purpose for which they were sold.
• Not correspond with their description.
Under such circumstances, goods must be returned to us promptly once the defect has been identified – and, so far as is reasonably practicable, in their original condition and packaging.
Responsibility for Cost of Returns
For unwanted goods returned under the 30-day returns policy, you are responsible for the cost of returning the items. For defective products, you are responsible for the cost of returning the items in the first instance. If the item is shown to be defective as described, postage costs will be refunded. We strongly advise that you return items using a recorded delivery method and that you retain proof of posting. Returns cannot be considered unless and until we have received the items.

2017 © Yousave Accessories